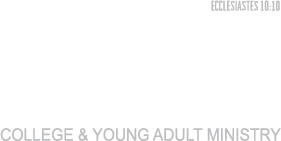 Are you a college student or post high-school young adult? We would love to help you connect with Crossview and expand your Christian community through our Sharpen College & Young Adult Ministry. We meet on Sunday mornings at 9:00am, September through early May. There's no preparation required, so you can join us any week, even if you're just visiting. You're always welcome to bring a friend! We also offer large-group events & activities throughout the fall, winter, and spring.
If you would like more information, feel free to drop in on a Sunday morning, or call the church office.
"Using a dull ax requires great strength, so sharpen the blade. That's the value of wisdom; it helps you succeed." Ecclesiastes 10:10 NLT
Join us Sunday mornings @9am

!