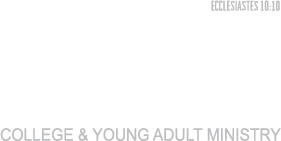 Are you a college student or post high-school young adult? We would love to help you connect with Crossview and expand your Christian community through our Sharpen College & Young Adult Ministry. We meet for Bible study on Sunday mornings at 9:00am, September through early May. We use a small group discussion format to discover what the Bible says about the Christian faith and life. There's no preparation required, so you can join us any week, even if you're just visiting. You're always welcome to bring a friend! We also offer large-group events & activities throughout the fall, winter, and spring. There's always food and fun and the chance to meet others in your age group, as well as the larger church community.
If you would like more information, feel free to drop in on a Sunday morning, or call the church office.
"Using a dull ax requires great strength, so sharpen the blade. That's the value of wisdom; it helps you succeed." Ecclesiastes 10:10 NLT
Join us Sunday mornings @9:45 am for

Bible study!