Buddy Break
Giving Caregivers of Kids with Special Needs a Break!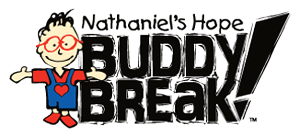 Buddy Break at Crossview is cancelled indefinitely.
What is Buddy Break?
Buddy Break is a free respite program where VIP kids with special needs are paired one-on-one with a Buddy to make new friends, play fun games, enjoy crafts, stories, music and more! Siblings have fun too! Meanwhile, their caregivers get a break from their ongoing caregiving responsibilities for three hours on designated Saturdays for each Buddy Break event.
Who are VIP kids?
VIPs are kids with special needs, which include any physical, cognitive, medical or hidden disability, chronic or life-threatening illness, or those who are medically fragile.
Who are Buddies?
Where is Buddy Break?
How do I sign up as a VIP/Sibling?
How do I sign up to be a Buddy?
Questions: